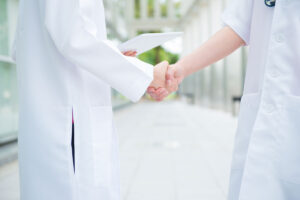 Addressing the Changing Needs of the Business of Medicine
The patient's needs will always come first. More and more often, however, healthcare providers are forced to make their clinical decisions in a business environment. Though that environment is not always ideal, patients cannot be treated if the medical practice or hospital cannot operate as a viable business. ProFusion specializes in helping your learners understand how business pressures impact the point where clinical decisions are made. By establishing learning objectives that build a broad and deep understanding of the business of medicine, ProFusion can help you understand:
How insurers, healthcare providers, and purchasers (i.e. employers and individuals) share financial risk for the cost of healthcare
How even patients are assuming more risk (i.e. through high deductible plans and making the purchase decisions on Health Insurance Exchanges)
How this risk impacts the decisions made by all these stakeholders
How stakeholder decisions impact the use of resources (healthcare services delivered and drugs prescribed)
Online Demonstration
If you would to see a brief one slide demonstration
of the training program services we can offer, visit this link.